Introduction
The Covid-19 pandemic set off a series of chain reactions in the US economy that persist to this day. One of the most consequential – especially for small and medium sized businesses – is how difficult the hiring market has become. Stimulus checks, an exodus away from metropolises and towards communities with a lower cost of living, a generation of retiring baby boomers, and rising competition to attract the best talent have all contributed to a tight labor market with high wages and a limited pool of talent to hire from.
This week a private report published by the ADP Research Institute indicated weaker-than-expected hiring numbers among private payrolls. As the chart below shows, US private payrolls posted the smallest month-over-month gain since the start of the pandemic.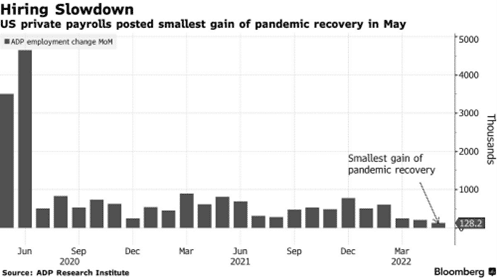 These figures indicate a few things. First, that it is still extremely difficult for businesses (especially small to medium sized companies) to attract talent. Second, that businesses could be (and likely are) tightening hiring plans in response to changing market and economic conditions. A separate report also published this week supports the latter point, showing that job openings fell month over month. However, in context, openings still remain elevated as there are nearly double the amount of job openings as unemployed Americans.
While Friday's highly anticipated jobs report came in higher than expected, it showed the slowest pace of growth since April of last year. Wage growth also dropped slightly from 5.5% last April to 5.2% last month.
As the Fed continues to navigate its quest for a "soft landing", a silver lining in its fight against inflation is that high inflation and low savings rates will force more American's back into the workforce. As a result, they are hoping that increased labor force participation will slow wage growth and tamper inflation. Additionally, if businesses continue to clamp down on hiring as new data suggests, the effect could be multi-faceted as more workers begin looking for fewer jobs.
In different times, these dynamics could incite panic. However, as Barron's published on Thursday, while hiring is showing signs of cooling, it's "not necessarily a bad thing" as this trend would slowdown wage growth, inflation, and ultimately temper the Fed's path for hiking rates.
Michael Johnston
Tech Contributor
DISCLOSURE: This material has been prepared or is distributed solely for informational purposes only and is not a solicitation or an offer to buy any security or instrument or to participate in any trading strategy. Any opinions, recommendations, and assumptions included in this presentation are based upon current market conditions, reflect our judgment as of the date of this presentation, and are subject to change. Past performance is no guarantee of future results. All investments involve risk including the loss of principal. All material presented is compiled from sources believed to be reliable, but accuracy cannot be guaranteed and Evergreen makes no representation as to its accuracy or completeness. Securities highlighted or discussed in this communication are mentioned for illustrative purposes only and are not a recommendation for these securities. Evergreen actively manages client portfolios and securities discussed in this communication may or may not be held in such portfolios at any given time.