The tech-heavy Nasdaq has had an exceptional start to 2023, rising nearly 28% year-to-date. Last Friday, the Nasdaq capped its sixth consecutive week of gains, marking its longest winning streak since 2020.
Nvidia's remarkable contribution to last week's risk-on run can't be overlooked as the company briefly became the ninth-ever member to join the trillion-dollar club after announcing impressive results and providing optimistic forward guidance. In case you missed it, the company announced a 19% rise in sales, 26% increase in profits, and an outlook that exceeded analyst predictions by nearly 50%.
As we've written about extensively in recent months, excitement around Artificial Intelligence (AI) has fueled a surge in all things AI-related. Nvidia is certainly one example of this tailwind, as soaring demand for its AI chips has propelled its share price to a staggering 180% increase this year.
As the saying goes, a rising tide lifts all boats. A combination of AI-driven hype, a more favorable macro environment, and a shift back towards risk-on sentiment has fueled the Nasdaq to significantly outperform the S&P 500 (which has risen 12.02% year-to-date) and Dow Jones (up 1.32% year-to-date).
However, despite the sizzling performance of public tech companies, private tech markets have remained cooler in the first half of the year. The two charts below underscore this point, showing a sharp decline in valuation step-ups and a significant increase in demand for capital compared to the available supply.
Median Valuation Step-Up (Post to Pre)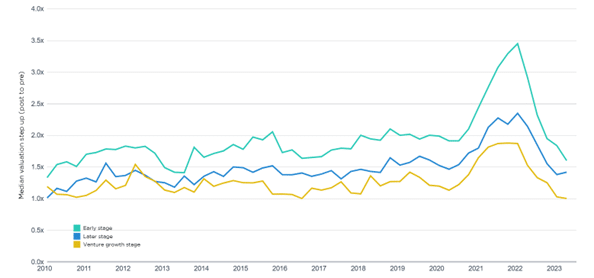 Capital Demand to Supply Ratio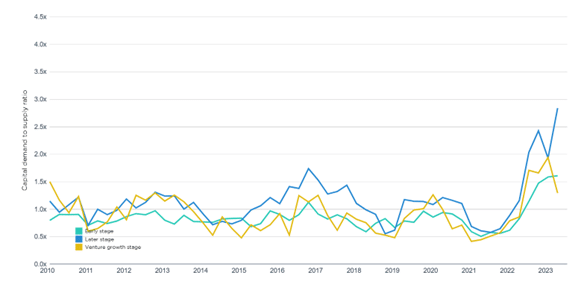 Source: PitchBook
It's not surprising to see this disconnect, as private markets typically trail public markets. Anecdotally, several Tier I Venture Capital (VC) firms that I've spoken with lately have shared they are well behind on allocating capital for the year and expressed the need to allocate capital into promising businesses. On the other hand, a similar cohort of investors have shared that overall valuation expectations among founders remain high, resulting in a stalemate where investors and companies struggle to find common ground.
Unless there are unforeseen changes, my expectation is that a combination of the aforementioned capital demands, the need for Funds to deploy dry powder, and tailwinds from public tech markets will propel the next cycle of growth in private tech markets. After all, there's always the possibility that an underdog like Nvidia, which was founded in a Silicon Valley Denny's, is ready for its shot at becoming the next trillion-dollar company.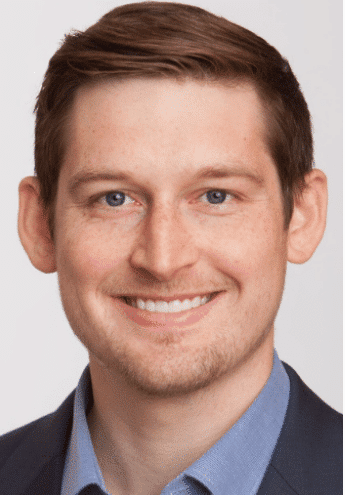 Michael Johnston
Tech Contributor
DISCLOSURE: . Securities highlighted or discussed in this communication are mentioned for illustrative purposes only and are not a recommendation for these securities. Evergreen actively manages client portfolios and securities discussed in this communication may or may not be held in such portfolios at any given time.
This material has been prepared or is distributed solely for informational purposes only and is not a solicitation or an offer to buy any security or instrument or to participate in any trading strategy. Any opinions, recommendations, and assumptions included in this presentation are based upon current market conditions, reflect our judgment as of the date of this presentation, and are subject to change. Past performance is no guarantee of future results. All investments involve risk including the loss of principal. All material presented is compiled from sources believed to be reliable, but accuracy cannot be guaranteed and Evergreen makes no representation as to its accuracy or completeness.